ALL ABOUT THROWS - The Ultimate Guide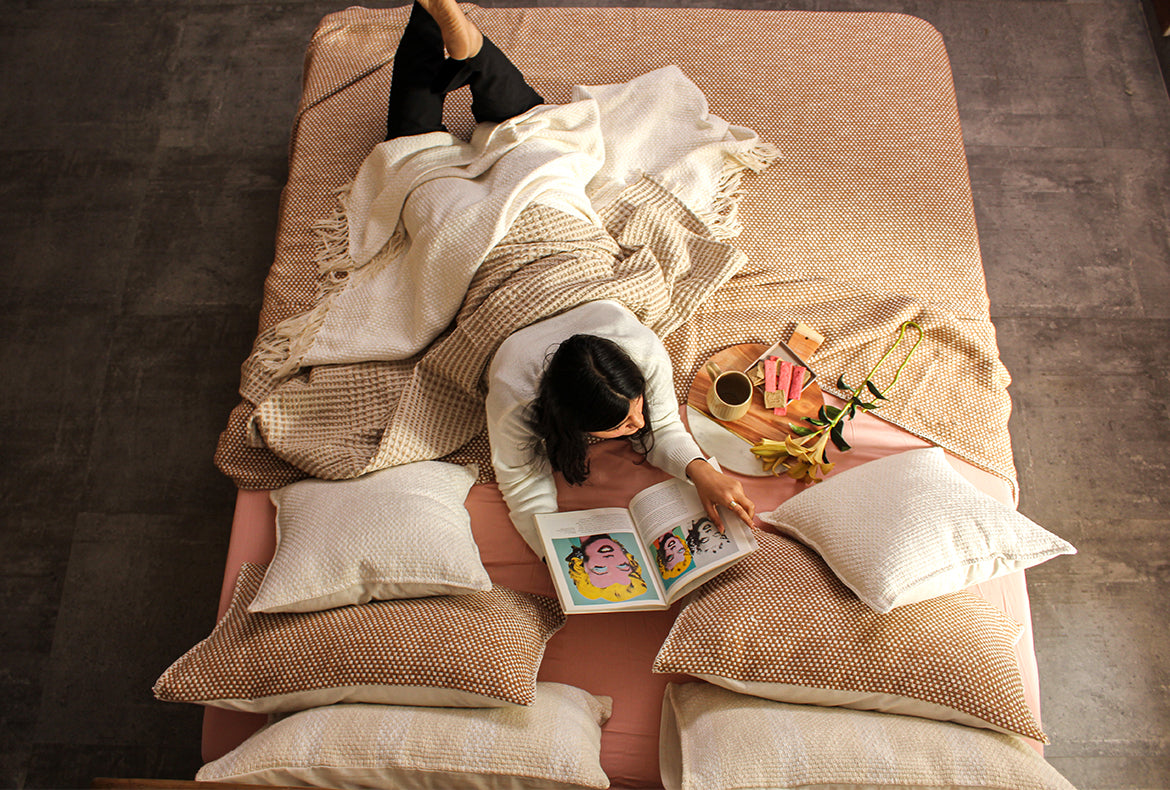 When winter comes knocking on your door, be sure to be ready with a cozy throw blanket on your lap, a huge cup of hot drink, and a stack of favorite binge snacks! Because winter is all about wrapping ourselves in layers of warmth and comfort; and what better way to impart all of that than a fluffy throw blanket.
And if you're unaware of throw blankets, let us take a peek into this very versatile home accessory that is perfect for cuddling up in and above that has multi-purposes. It can either be used as a decorative accent in a space or as a pop of color. But if you're wondering how one can use a throw blanket as a decorative accent then, read ahead! 
 A Versatile Accessory with Distinct Uses 
The best kind of throws look aesthetic, are soft to the touch, and keep you just the right balance of warm and comfy. They are the ultimate definition of style and function in one! Most of the confusion lies in how to decorate a space with a throw in a way that looks pleasing to the eyes. Well, allow us to give you a deep dive into the art of throwing a throw (pun-intended).
Drape it over a couch
The conventional place for a throw blanket is on a couch and there exists multiple ways to drape a throw on it. One of these many ways is to simply drape a throw at the armrest of the couch; our Vindhya throw would be an ideal consideration for such styling. 
You can also fold the throw in a rectangle and toss it over the backrest of an armchair or make a waterfall covering the back of the entire couch. (seen in the image below is our Niltava Throw) 
Our personal favorite is to casually throw the blanket on the couch, it gives a very not-so-perfect finish that adds character to a room. We love to use our most premium Purvanchal throw to further specialize it, as it's lightweight, plushy, and too soft. 
Stack It Up On Your Bed
The key to the perfectly styled winter bed is layering. Effortlessly stacking up layers of coziness on a bed imparts the feeling of warmth when temperatures drop. And throw blankets are an integral part of winter bed styling. Here's how you use them. 
You can either place your throw at the foot of the bed so that you can grab on it when your feet get cold, or simply toss it over the corner of the bed to add a pop of color to your bedding and some texture. 
Lastly, you can choose to drape it over the headboard of your bed or fold it on your bed cover or comforter. Our Karakoram throw is an ideal throw to have around in a bedroom, it is a unique viscose & polyester blend with a distinct waffle texture. 
Add a Dollop Of Color
Liven up your living space or reading room with bright-colored throws and cushions. Our newest range of throws and throw pillows features a beautiful range of colors and patterns that can switch moods and make heads turn, (yes, you heard us right)! 
Drape a throw blanket like our Amaltaas throw over an armchair with some cushions featuring vibrant hues complementary to the blanket, and witness the instantaneous change that the combination brings to a space. 
In a Basket or Over a Ladder 
Another aesthetic way of using throws as a decorative accent is storing them in a woven basket and placing them beside a couch. You can add some cushions in the basket and then, let some of the throw pop outwards.
Or repurpose an old wooden ladder and place it in your living space with some throws hanging on each rung. It'll give a rustic farmhouse vibe to your room, believe us! 
How to get your hand on the best throws? 
At House This, we offer a wide range of throws and throw pillows varying in textures, blends, colors, and patterns. We have a throw for every personality, fit for every season, and serve multi-purposes. 
However, all our throws are highly durable, and of premium quality; they are breathable and super comfy. And we hope this guide helps you in understanding how to style a throw blanket and making the most out of them! 
Collection 2019
Sale 70% Off
Title for image