Discovering Marari : Elevate Your Lifestyle with These Must Have Products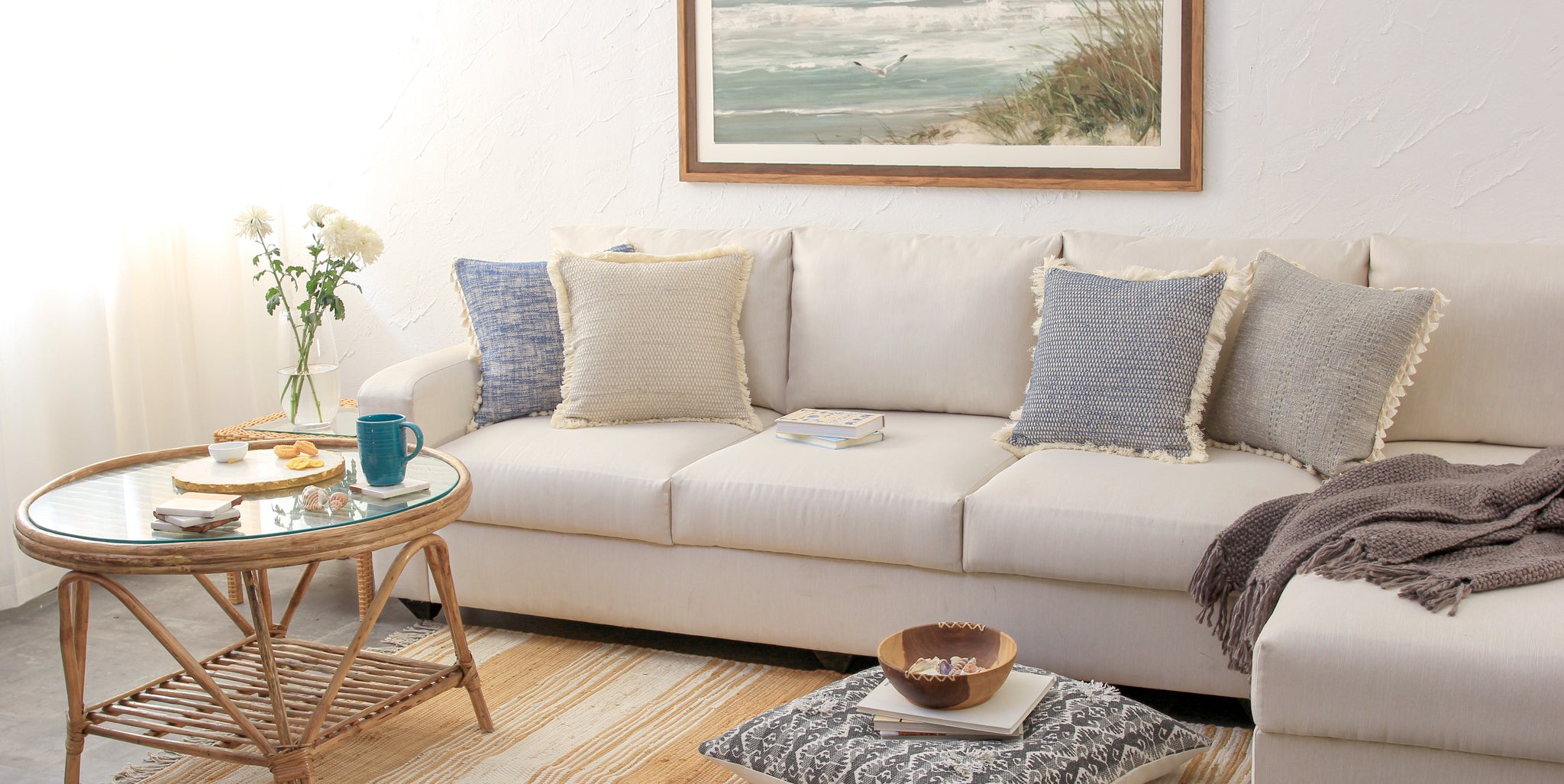 Welcome to Marari, our best selling collection, inspired by the idyllic seaside haven nestled against the fabled Malabar coast. With a soothing palette, natural materials, and an earthy vibe, Marari effortlessly embodies the easy simplicity and tranquil ambiance of a languid beach retreat. Join us as we delve into the inspiration behind this remarkable collection, explore its diverse range of textile and decor products, and envision how Marari can transform your living spaces into a coastal sanctuary.
Unveil Our Favorites From The Capsule
Imagine a place where golden sands meet the gentle ebb and flow of the ocean, where time seems to slow down, and worries dissolve into the soothing sound of waves. This picturesque coastal retreat along the Malabar coast has served as the muse for our Marari collection.
The collection encompasses a diverse array of textile and decor products that reflect the coastal allure and earthy vibes. Let us deep dive into some of our favorites from the capsule :
Nalikeram Placemat - coconut inspired elegance/ Exotic coconut charm
Our table linen selection showcases the natural beauty of the seaside, with each piece crafted to convey a sense of effortless elegance. Our Nalikeram Placemat is crafted with meticulous attention to detail. Its woven construction not only exudes durability but also adds a touch of elegance to your table setting. Made from pure cotton, this placemat offers a superior finish that combines style and practicality.
The soothing colors and delicate patterns in our Marari collection transport you to the tranquility of the coast, making every meal a serene and memorable experience.
Matsya Vala Cushion Cover - Laid back island vibe
Complementing the table linen, our range of cushions present an opportunity to infuse your living spaces with the soothing essence of the seaside. Our Matsya Vala Cushion from the Marari collection can add a touch of charm and texture to your living space. Its distinctive weave texture instantly elevates the style quotient of any room it graces, making it a statement piece.
The soothing colors and delicate patterns in our Marari collection transport you to the tranquility of the coast, making every meal a serene and memorable experience.
Crafted from 100% pure cotton, our range of cushion cases ensures unparalleled comfort throughout the year, adapting to every season with ease.
From earthy neutrals to subtle blues, our cushions emulate the coastal hues, adding a touch of tranquility and visual interest to your sofas, chairs, and beds.
Arabian Sea Runner - Textured to Perfection
Introducing the Arabian Sea Table Runner from our Marari Collection. This exquisite piece brings an air of sophistication and coastal charm to any dining setting. Adorned with delicate tassels on its edges, this table runner effortlessly combines style and functionality. Crafted in a neutral gray shade, it complements a wide range of decor themes, adding a touch of understated elegance.
The textured material, made of soft cotton, enhances its visual appeal and provides a pleasant tactile experience. Whether hosting a casual brunch or a formal dinner, the Arabian Sea Table Runner is a versatile addition that elevates your table decor with its timeless beauty.
With Marari, you can bring the coastal charm of the Malabar coast into your own home. Each piece within this collection has been thoughtfully designed to convey the simplicity and tranquility of a seaside haven. Embrace the earthy vibe, the natural materials, and the unique textures that evoke memories of the beach. Whether you're yearning for a personal sanctuary to unwind or seeking to create a serene ambiance for your loved ones, Marari offers a range of textile and decor products that cater to your needs.
Collection 2019
Sale 70% Off
Title for image