Our Favorite Home Decor Influencers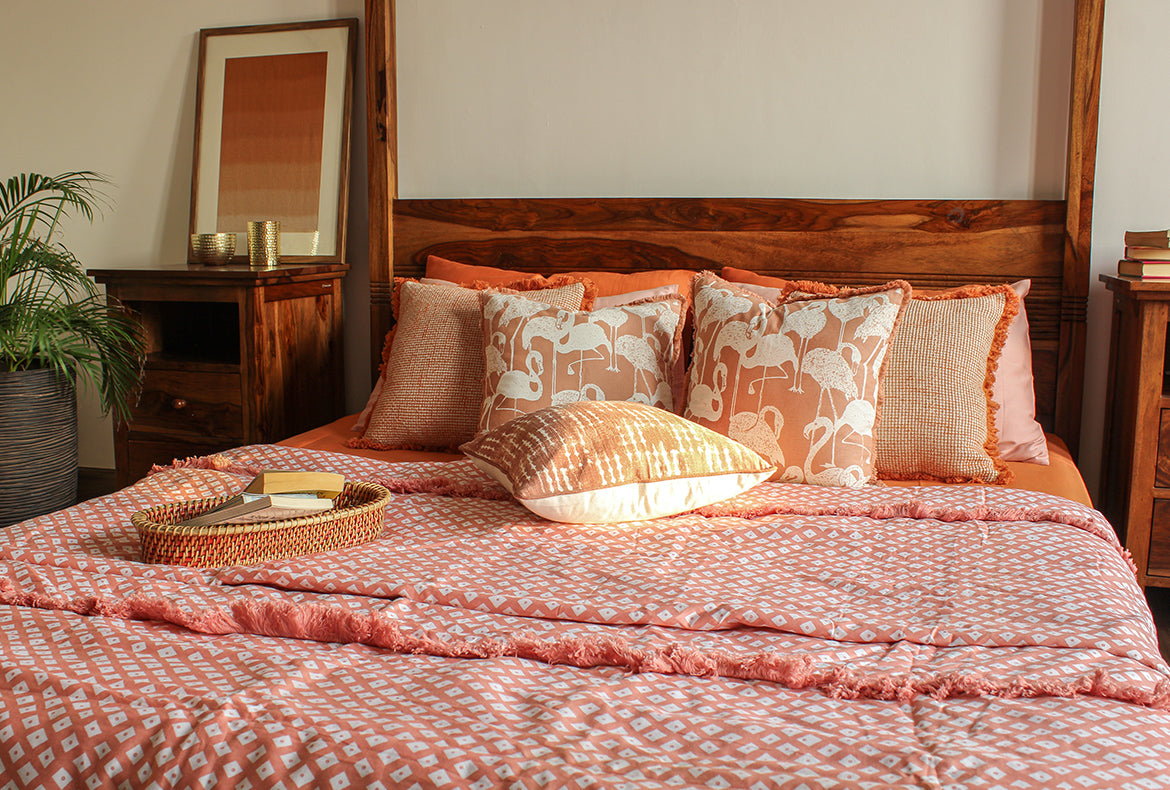 In today's digital age, social media platforms like Instagram have become a treasure trove of home decor inspiration. With a myriad of talented influencers showcasing their creativity and style, it can be overwhelming to find the perfect accounts to follow. Fear not! We've curated a list of our favorite home decor influencers on Instagram who will captivate you with their unique vision and offer a wealth of ideas to transform your living spaces. In this blog post, we'll be shining the spotlight on four incredible influencers. 
Seema Singh (@mynestedabode) 
Seema Singh, also known as @mynestedabode on Instagram, is a home decor influencer who believes in creating spaces that truly reflect one's personality and evoke a sense of joy. Seema's decor style can be described as eclectic, as she embraces the constant evolution of her home, guided by moods but most importantly her personal journey. She seamlessly blends indoor and outdoor elements, creating a harmonious connection with nature. 
By following her, you'll discover why it's important to put effort and time into truly enjoying your home. She shares her love for vintage finds and acts as a self-confessed scavenger, always on the hunt for unique pieces. In addition to Seema Singh's passion for home decor, she also loves incorporating the power of storytelling in every post she shares. Her followers wholeheartedly embrace this aspect of her content, as it adds a deeper layer of meaning and connection. With Seema, you'll be able to create a home that speaks authentically about who you are and foster a sense of comfort. 
Jasleen (@theketlihome) 
When it comes to blending contemporary aesthetics with traditional elements, @theketlihome stands out from the crowd. With a focus on straight-line furniture adorned with Indian fabrics, pottery, and plants, Jasleen's style exudes a harmonious blend of modern aesthetics and natural influences. 
By following her page, you'll embark on a journey through the myriad of Indian heritage and experience the charm of fusion decor. Jasleen shares captivating images that encompass a wide range of spaces, from cozy living rooms and serene bedrooms to vibrant dining areas and stylish outdoor setups. Her choice of straight-line furniture creates a clean and modern foundation, while the addition of Indian fabrics adds texture, color, and cultural depth to the spaces. The incorporation of pottery and plants further enhances the earthy vibe, bringing a sense of grounding and organic beauty to the overall aesthetic. Follow her to learn the art of modern-indian living. 
Krittika (@willowandlovehome) 
@willowandlovehome, curated by Krittika Srikanth, is an Instagram page that showcases her expertise as a product stylist and home decor blogger/influencer. Krittika's design style revolves around achieving a balance between form and function, creating spaces that seamlessly marry aesthetics with comfort and utility. With a penchant for minimalism, Krittika is organically drawn to the color white. This color choice reflects her design sensibilities and serves as a backdrop for her minimalistic approach to decor. 
By following Krittika, you'll be introduced to a world of serene and effortlessly stylish spaces that prioritize simplicity and functionality. Krittika's content offers inspiration on how to create a harmonious and tranquil atmosphere through carefully curated design elements. Her feed showcases rooms that exude a sense of calmness, featuring clean lines, uncluttered spaces, and a thoughtful selection of furnishings and decor. Her content is a valuable resource for those seeking to enhance their space with carefully chosen and styled pieces. 
Raina (@theshalomhome) 
@theshalomhome, curated by Raina, is an Instagram page that showcases her passion for interior and product styling. As a true forager, Raina finds inspiration in outdoor elements, including plants, flowers, stones, and other natural components. She sees beauty in the ordinary and is constantly on the lookout for daily musings, from the rustic colors of a leaf to fallen flowers on the streets and the textures of distressed walls. 
After a successful 10-year career in the corporate world, Raina found her true calling in helping people transform spaces. By following her, you'll immerse yourself in Raina's world of creative expression. Her content offers a glimpse into beautifully curated spaces that harmoniously blend the indoors and outdoors. Raina's styling expertise extends beyond interior spaces, as she also showcases her skills in product styling for home decor brands. Her keen eye for detail and her ability to curate visually stunning arrangements will inspire you to create captivating vignettes within your own home. 
Collection 2019
Sale 70% Off
Title for image