Say Hello to Summer with Amra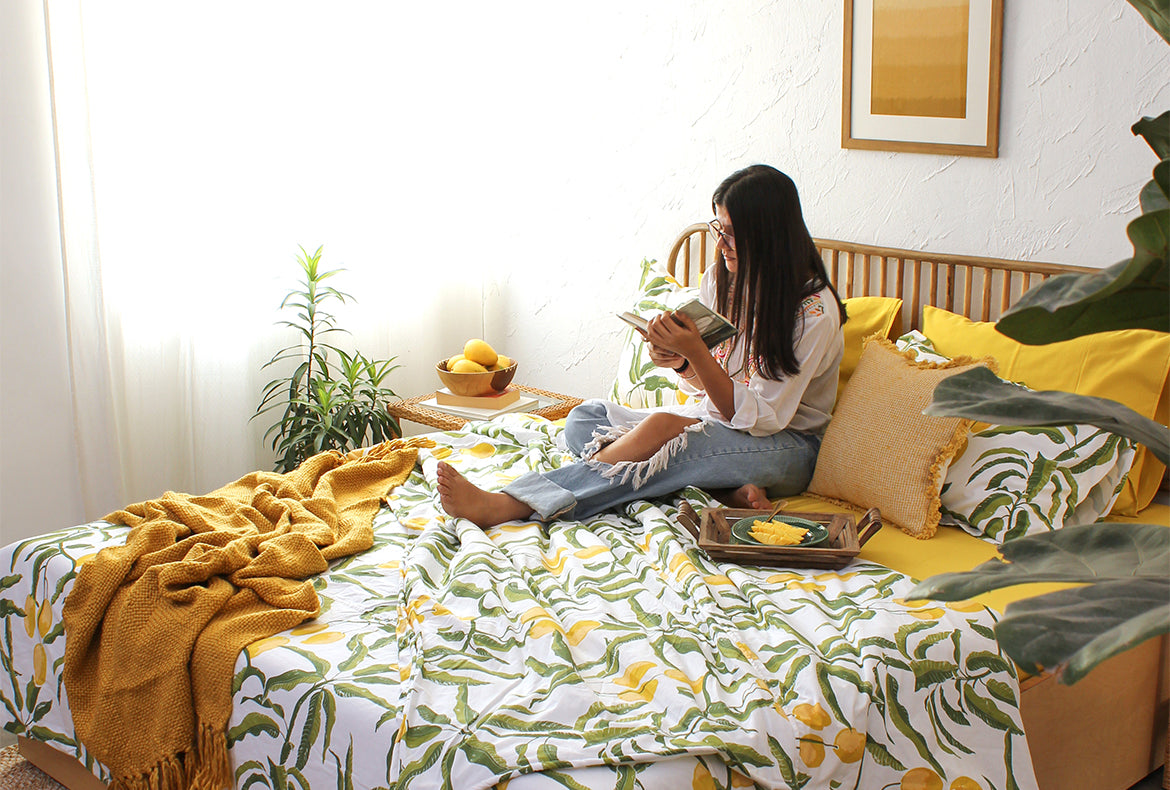 As the scorching summer heat slowly begins to set in, it's that time of the year again when everything around us seems to come alive with vibrant colors and flavors. And what better way to celebrate the arrival of summer than by indulging in some juicy, sweet mangoes - a true love for many Indians during this season. 
Here is "Amra" - a summer capsule that takes inspiration from this quintessential summer fruit and translates it into an extensive range of bed linen, table and kitchen linen, etc.; all adorned with prints and shades of mangoes. Keep reading to explore how we incorporate the irresistible sweetness of this fruit to brighten up every corner of home for the summer season!
The love for mangoes is no 'aam' baat 
Ah, the mango - the very mention of this fruit brings back memories of lazy summer afternoons, sticky fingers, and the sweet aroma of its flesh. It is a fruit that is not just delicious but also holds a special place in the hearts of many Indians. As the temperature starts to rise, the anticipation for the mango season starts building up, and it becomes the most awaited fruit of the year. With its scrumptious taste and juicy texture, it's no wonder that mangoes have been crowned as the 'summer love' of many; including us (obviously)! 
Mangoes and Us - Unlocking Nostalgia 
Do you all remember eagerly waiting for the arrival of mango season as children? The arrival of mangoes marked the start of summer, bringing with it a sense of joy and excitement that was unmatched. Whether it was enjoying a chilled glass of mango shake or devouring slices of ripe mangoes, this fruit has always been a part of our summer memories. 
These memories are precious and deeply ingrained in our minds, and our Amra collection aims to refresh those memories and bring a sense of connectivity, and joy to your home. 
Amra - The Perfect Summer Capsule For Your Home 
The Amra collection is a true embodiment of the essence of the Indian summer - lively, vibrant, and full of warmth. Inspired by the love for mangoes, this collection has been created to infuse any living space with the quintessential summer mood. The collection aims to transport us back to the memories of our childhood days spent fondly waiting for the arrival of mangoes. 
The prints of mangoes on the textiles are not just a design choice, but a celebration of the joy and nostalgia that this fruit holds in our hearts. The color palette will add a romantic sunny flair to every space. And with bold prints and pastel hues making a comeback, this capsule is going to be the trendiest of all in your wardrobe. 
Every piece in the collection has been thoughtfully crafted using high-quality fabrics, ensuring that they are not only visually appealing but also comfortable and long-lasting. From table linen to bedding and everything in between, there's something for every space. So get ready to bring the warmth and light of summer into your home and create the perfect epitome of the season! 
Collection 2019
Sale 70% Off
Title for image