How to style a perfect winter bed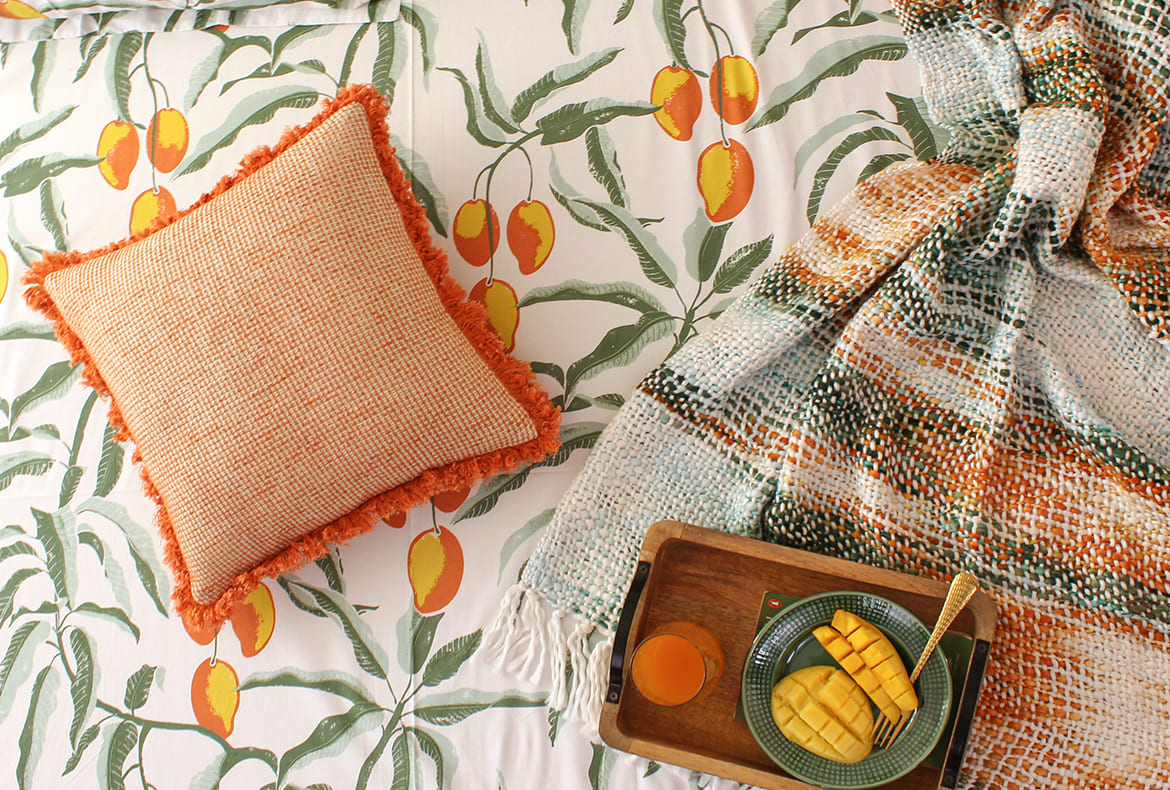 In summer, we all like to keep our bedding light and breathable but as soon as winter hits us, we feel the need to create warm sanctuaries to keep us warm and cozy. However, creating a cozy bed is an art that not many people know of. Today we share a trade secret- it's quite simple to do and doesn't cost a fortune as most of us assume!
By the end of this blog, you would have styled a bed that you wouldn't want to leave for the rest of this season! (we ain't kidding) 
1. Invest In A Good Quality Bedsheet
Crawling into a bed that is covered in a high-quality bedsheet is crucial for sound rest and to improve sleep quality. Thus, it is very important that you invest in bedsheets that are made of natural materials like 100% cotton, and silk, and are hypoallergenic.
Bed linen at House This are carefully crafted of premium quality percale cotton that are mercerised, durable, and perfect for every season. You can choose a color scheme that best suits your bed aesthetic, however, choosing a neutral shade for bedding like white, beige, etc. gives a soothing vibe and can be styled in many ways. Or add a little omph to your room with vibrant prints and colours. Our Amra bedding range is a perfect example of this!
Tuck your bedsheet tightly from every corner of the bed for a crisp fit and to stay put all day long. Alternatively, you can choose to buy fitted bed sheets that require minimum effort! 
2. Add A Comforter
The second step is to add a layer of warmth on top of your bed sheet. Choose a comforter with an outer made of pure cotton to keep you airy and breathable at night and an inner filled with good quality hypoallergenic polyfill.
You can stack a comforter with a bed cover or duvet and a throw blanket above, and make the bed look full and comfy. For comforters, you can choose a pop of color, prints or neutrals, whatever, you prefer the best. You can find the best comforter for yourself from a wide selection at House This! 
3. Stack Ahead With A Bed Cover
It's always great to have a bed cover placed over your comforter that is easy to reach when your feet get cold. A lot of people like to choose a weighted bedcover as it helps improve their sleep. You can add a bit of texture to your bedcover and a pop of color if you're choosing to keep your bedding base neutral. 
For styling, fold your bed cover about half way from your bed with your comforter peaking through a bit from the under. It will make your bedroom look billowy! Explore the newest range of bedcovers at House This, available in distinct colors and patterns. 
4. Pile Up Your Pillows
To make your bed look fuller, we suggest you add 2-4 sleeping pillows on a queen-sized bed and 4-6 on a king-sized bed. We love a good mix of pillows and throw cushions as they are extra plush and make a bed look cozier instantaneously.
Arrange your pillow and cushions in a way that the pair of sleeping pillows is stacked at the back with two throw cushions in front of each or a lumbar cushion in front. You can also mix different sizes of cushions and pillows for a better arrangement. 
5. Throw Blanket
Lastly, add a throw blanket to your bedding to complete the look. A throw adds depth to a room and can also be used as a pop of color; it's an accessory that can be wrapped around the shoulders or over our lap when you don't wish to lie down immediately. And if you wish to know more about how you can style a throw on your bed then, refer to our "All about throws" blog.
You can either use a cotton or wool throw blanket, or a chunky knitted throw, whichever you find more comfortable.
Voila! With our handy tips, you can set up a perfect bed in no time. 
Collection 2019
Sale 70% Off
Title for image